Mark Hennen -- Biography

Mark Hennen (piano, synthesizers) studied with Cecil Taylor at Antioch, Bill Dixon at Bennington, and Borah Bergman in New York City.

He performs and records regularly with Rashid Bakr, William Hooker, Jackson Krall, and William Parker, among others, and has been a member of the Kasavan/Hennen piano duo for fourteen years.

Recent performances include the Collective Quartet in London and Belfast, the Mark Hennen Quartet and the William Hooker Big Band at the Knitting Factory in New York, the Whitney Museumís Duo Piano Mini-Festival with Toby Kasavan, the Amherst Music Festival with the Marco Eneidi Sextet, and the Sound Vision Orchestra with Alan Silva.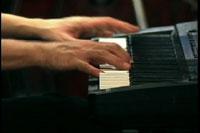 Updated on Apr 08 '05